Enhance Spend and Public Investment Management through Interoperable Procurement Systems
The good news: electronic government procurement (e-GP) systems can reduce government costs and improve value for money
The bad news is that standalone e-GP systems open up multiple points of public finance failure in: commitment accounting segregation of duties compliance & anti-corruption procurement & budget planning assets & inventory
This paper describes why e-GP interoperability with numerous financial management systems is required in government, and how government procurement differs from private sector procurement. (This paper updates a blog entry from 2014). Scenarios are also explored:
Spend management for commodity purchases
Value for money in capital purchases
Effective public investments
What do we mean by "interoperability"? (because there is a lot of confusion in government organizations partly through vendor hype)
Integration is automated with no need for any manual interface processes
Metadata (chart of accounts, vendors, catalogs, organizational charts) is shared among financial applications
Controls (commitment controls & segregation of duties) are shared among financial applications
Any change to metadata or controls happens in one place and is updated in all applications
Interoperability is aided by technology, like the FreeBalance Accountability Platform, that uses a unified design to support intra-suite seamless integration
What makes Government Procurement Different?
Why does it make a difference in government?
budgets are the law and governments use commitment accounting public sector
procurement often represents up to 30% of country GDP and is a major corruption risk
procurement is a major contributor to effective public investment management
As described in my previous blog entry:
Procurement software that is not budget aware increases the burden on governments for manual and duplicate processes where exceeding the vote is risk
Back-office procurement processes in government tend to be more complex than in the private sector as any government contractor has realized when looking at proposal automation software
Many procurement cycles are highly publicized. For example, in Canada, the last two times that national governments fell on non-confidence motions were because of procurement – aircraft procurement (2011) and events sponsorship procurement (1993-2006). (In fact, in Canada, procurement has been a huge issue since the days of the Canadian Pacific Railway – pacific scandal (1871) and includes reciprocity or free trade with the United States (1911), the pipeline debate (1956), "corporate welfare bums" (1972), and military helicopter procurement (1993). The results of these politicized procurement situations?

Change in party in power in 1871, 1911, 1956, 1993 and 2006
Party in power lost majority government in 1972
Minority government achieved majority status despite the situation in 2011
The big picture is shown below with:
procurement functions in red
controls in green
metadata in grey
audit in blue
added emphasis for critical commitment accounting functions
dotted lines for important functions that are typically not included in interoperability analysis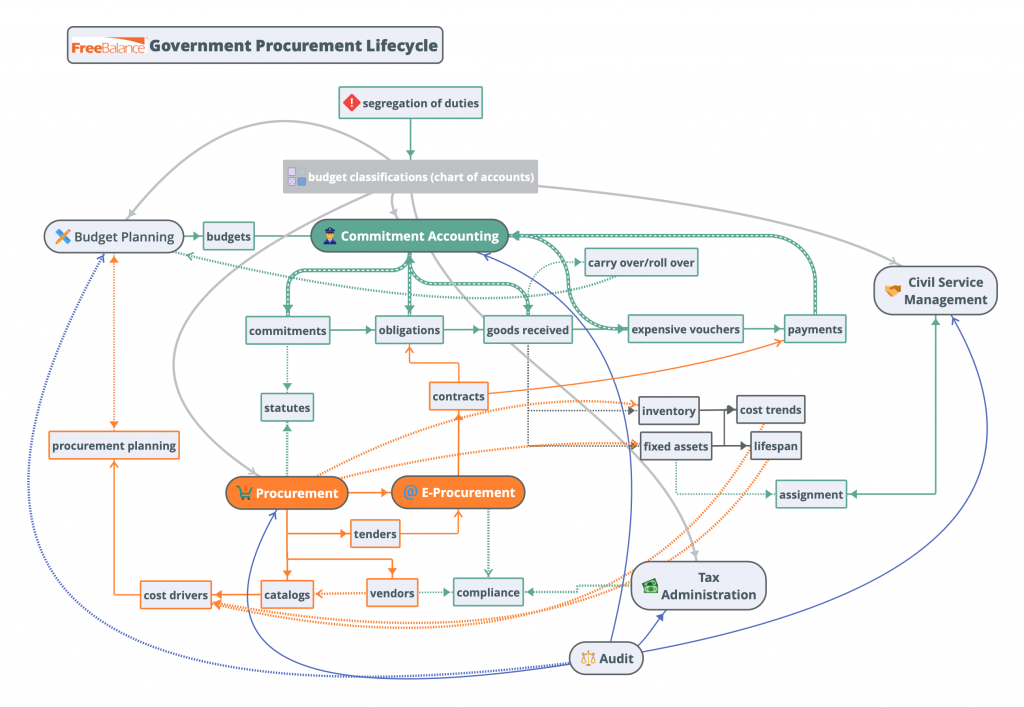 Critical elements across all public financial management applications includes integrated:
Segregation of duties to ensure compliance and anti-corruption efforts
Budget classifications as shared core metadata
Commitment accounting across all expenditures for budget controls
The diagram shows the logical interrelation of e-GP systems with budget planning, commitment accounting (core Financial Management Information Systems – FMIS), tax administration, human resources, and audit
Budget Planning to Execution
Budget planning results in budget controls in core financial management systems that supports commitment accounting consisting of:
Commitments at the purchase requisition stage to set aside funds in anticipation of a procurement cycle
Obligations at the purchase order stage that sets aside contracted funds after the procurement cycle has been completed
Goods receipts, expense vouchers, and payments following contract requirements
End-of-year processes to carry-over or roll-over budgets based on rules, including the support of multiple-year commitments
How does interoperable e-GP with commitment accounting help governments?
Ministries, Departments, and Agencies (MDAs) cannot assert that they have budget for items express in Charts of Accounts when they do not MDAs cannot take part of the obligation in the current fiscal year, and take on unauthorized arrears
Segregation ensures that the proper goods are properly received from certified vendors
Only received goods will be accounted
Vendor information including catalogs and framework agreements will be automatically used to achieve lower prices
Most importantly, the processes of commitments, de-commitments, obligations, de-obligations, are fully automated
Government Procurement
The core e-GP functions that need to be supported include:
Statutes that determine procurement rules like modalities (tendering, quick tenders, qualified vendors, framework agreements), and length of time that tenders must be available to vendors
Tenders are created and posted to e-procurement sites
Contracts are created as part of the purchase order process
Vendors are checked to ensure tax compliance
Vendor information includes catalogs that are used in framework agreements and short lists
How does interoperable e-GP help government procurement management?
Procurement processes automatically reflect statutes
Tenders are automatically created based on rules and posted to e-procurement sites for the proper length of time
Contracts and purchase orders are automatically created based on tenders and are compliant with procurement regulations
Vendors selected for procurement are compliant with taxes
Framework agreements are automatically when already coded
Additional Operational Functions
The other points of e-GP operational integration include:
Commodity purchases are placed in inventory
Capital purchases are placed in fixed assets registries
Fixed assets are assigned to public servants
Where interoperable e-GP help with these additional public finance functions?
Orders for commodities already in inventory are trapped, and all new commodities are placed and tracked in inventory (thanks to Chart of Accounts metadata)
Fixed assets are placed automatically in asset registries (thanks to Chart of Accounts), expenses against assets are tracked, depreciation is automatically calculated
Fixed assets are automatically assigned to public servants and managers are informed when staff leaves or transfers to other MDAs
There are also many budget planning advantages when e-GP is interoperable:
Vendor catalogs can be used to create cost drivers
Inventory trends can inform procurement plans
Asset registers can inform the need to procure replacements
Common metadata and controls enables audit processes:
Improves comparability across systems to track transactions
Reduces the need to audit all transactions because of interoperability, making for risk-informed audits
Supports ability to develop alerts directly from financial systems to trap potential non-compliance before payments made
e-GP interoperability improves government performance management:
Performance criterial (outputs and outcomes) can be tied to Charts of Accounts to identify Value for Money (V4M) criteria for policy linkages
Transparency is automated: tenders are automatically provided on portals, winning bidders automatically listed from purchase orders, results posted at contract milestones
Critical Success Factor: Segregation and Duties & Commitment Cycle Breakdown
It is very difficult to replicate and maintain identical segregation of duties and commitment controls between a financial system and a standalone e-procurement system. The standalone procurement system would need visibility into numerous financial processes while understanding who has requested and who has approved across the procurement cycle. This workflow diagram shows the importance of integrating segregation of duties and commitment controls across the procurement cycle.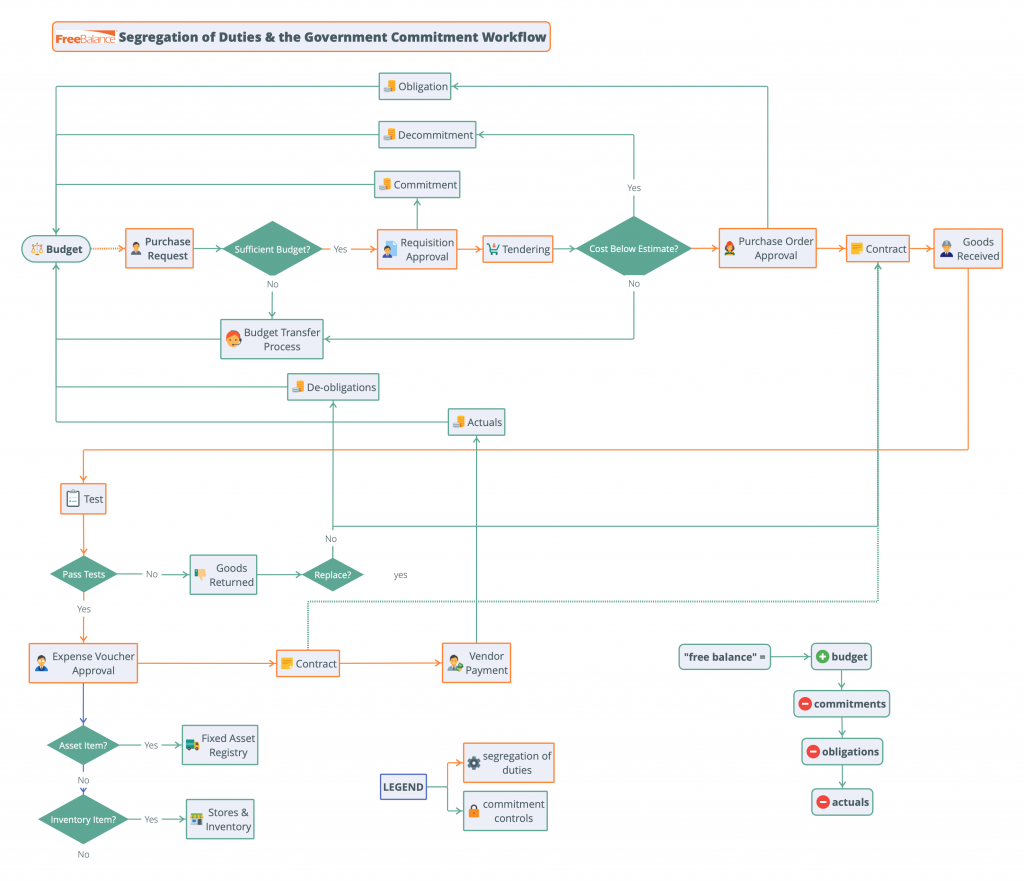 This simplified workflow consists of:
Legal budgets are enacted
Person checks to see if there is budget available for a purchase (typically checks more than 1 aggregate budget control), with the option of requesting a budget transfer

handled by a different person to support segregation of duties

Sufficient budget moves the process to purchase requisition approval

handled by a different person to support segregation of duties
funds are committed

A tender is issued, the results of which include:

request for a budget transfer (or, use of available budget) if the price is higher than the estimate
decision to cancel the acquisition, resulting in a de-commitment of the entire amount
de-commitment of funds if the purchase price is lower (estimate – actual)

Purchase order is approved

handled by a different person to support segregation of duties
contract is issued

Goods (and services) are received
Goods and services are tested with the result that:

Items need to be returned, based on contract provisions
Items are accepted and expense vouchers are approved
(Items that are not received during the fiscal year can result in de-obligations)
Items are placed in assets and inventory

Payments are approved

handled by a different person to support segregation of duties
payment is recorded
What is not included in the diagram, for simplicity, are approval escalations  and alerts based on economic usage, region, asset type, and amounts.
Critical Success Factor: Automated Tendering
It is also difficult to integrate tendering in stand-alone procurement systems. Tenders are typically rendered in word processing software meaning that many important rules could be broken. The following diagram explains a more ideal tendering process: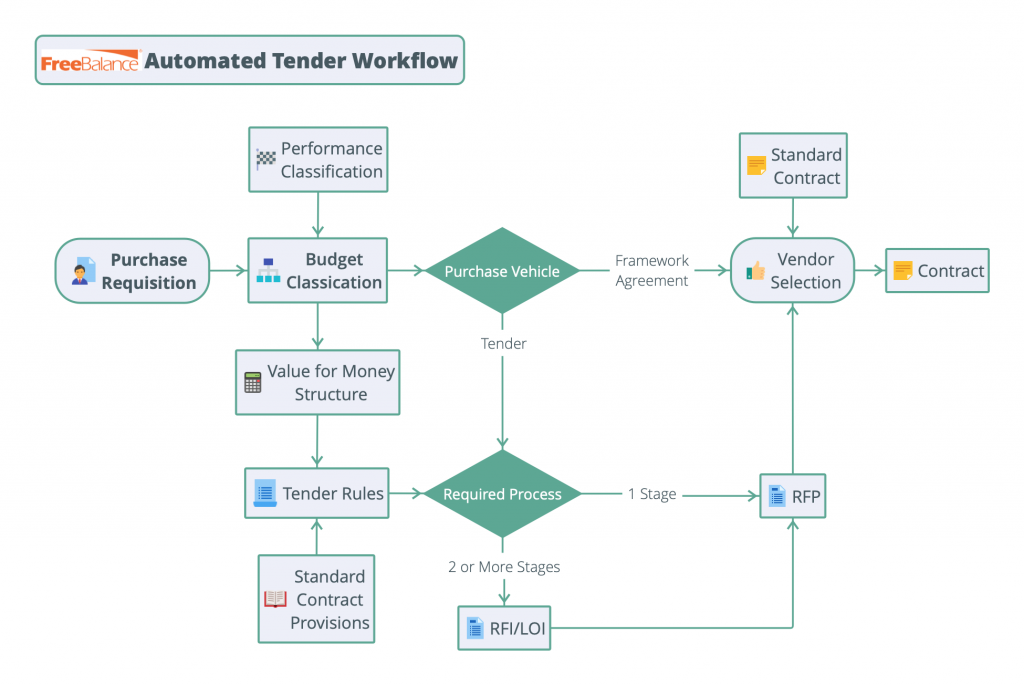 The purchase requisition uses budget classifications
These budget classifications should determine whether the acquisition should occur through a framework agreement, tender, (or other purchasing vehicles)
Framework agreements should have standard contracts that are rendered with purchase orders
Tender rules based on budget classifications determines the complexity and stages for tendering

Multiple stage processes may be required, such as issuing Requests for Information or Letters of Interest
Requests for Proposal could have also have multiple stages, one to select a short list of approved vendors, and another step for financial proposals

Integrated performance structures with budget classifications can help to generate Value for Money tenders directly aligned to national development goals or SDGs
The integration of contract provisions and budget classifications can also partly render tender documents and full render contract documents (with exceptions based on segregation of duties)
Summary
Key benefits of full e-GP interoperability includes:
Compliance through controls, segregation of duties, and contracts integration
Efficiency through automation across the acquisition cycle
Effectiveness through aligning government performance with acquisitions
The lack of e-GP interoperability reduces effectiveness and compliance with:
Controls and metadata
Assets
Inventory
Human Resources
Budget planning
Audit management
Scenario 1: Spend Management
e-GP Goals: achieve lowest cost for commodities
Definition via the Gartner Group: "Spend management is a set of practices that ensure organizations make procurement and sourcing decisions in the interests of both the bottom line and company efficiency. Spend management is about maximizing value from company spend while decreasing costs, mitigating financial risk and improving supplier relationships. Spend management is primarily related to procurement and encompasses spend analysis, strategic sourcing and supplier relationship management. Spend management software helps chief procurement officers and chief financial officers maintain spend visibility"
Governments improve spend by integrating vendor catalogs, previous acquisition costs, and current inventory to determine whether to combine purchases or develop framework agreements leveraging Charts of Accounts to identify equivalent products and services
Scenario 2: Fixed Assets Capital Expenditures
e-GP Goals: achieve best Value for Money (V4M) based on Total Cost of Ownership (TCO)
Definition of V4M via the Government of Northern Ireland: " Best value for money is defined as the most advantageous combination of cost, quality and sustainability to meet customer requirements. In this context:
cost means consideration of the whole life cost
quality means meeting a specification which is fit for purpose and sufficient to meet the customer's requirements
sustainability means economic, social and environmental benefits, considered in the business case, in support of the Programme for Government"
Governments improve fixed assets V4M by integrating vendor catalogs, previous acquisition costs, total costs (especially maintenance), life spans (period of time asset lasts until replacement needed), and any revenue generated by selling assets
Scenario 3: Public Investments
e-GP Goals: achieve best value for money aligned with national goals
Definition of National Development Plans via UNDP:"Governments draw up national development plans and strategies based on the perceived needs and priorities of their citizens. Typically consisting of a 5- to 25-year horizon, national development plans define desired development outcomes to be achieved, build consensus on the obstacles to and opportunities for achieving those outcomes, define the role and contribution of different sectors and stakeholders in achieving the outcomes, and provide a strategic framework within which more detailed planning and budgeting can take place at regular intervals. National development plans tend to focus on economic growth and job creation and thereby reduce poverty. Consequently, these plans incorporate targets that address GDP, rates of employment and poverty levels."
Government improve public investment V4M by integrating procurement value criteria directly with development plan structures, and through integrating performance results, actual budgets, and timelines
Topics