Important Questions for a Public Financial Management (PFM) Social Enterprise During and After the Coronavirus Crisis
https://twitter.com/dalytics/status/1301498930249764865
Background: We had a company-wide webinar and discussion about the pandemic and our social responsibility yesterday. Why?
https://twitter.com/dalytics/status/1301501446458761219
We know that we can help FreeBalance customers reallocate priorities, adjust controls, track procurement, audit transactions, analyze results, and create effective reports to international financial institutions thanks to built-in functions in the FreeBalance Accountability Suite

We also know that our Public Financial Management (PFM), Financial Management Information Systems (FMIS), and IT knowledge can help governments who do not have our software

And, we know that this is not a "black swan" event because of numerous pandemic risk predictions
https://twitter.com/dalytics/status/1301499181819768833
https://twitter.com/dalytics/status/1301559305301307393
Our Golden Circle
We're big believers in the "golden circle"  that we communicate during on-boarding regular internal communications. It has become a framework for ethical decisions.
We also leverage the "golden circle" in our "go-to-market" because it's a distinctive competitive differentiator from traditional providers.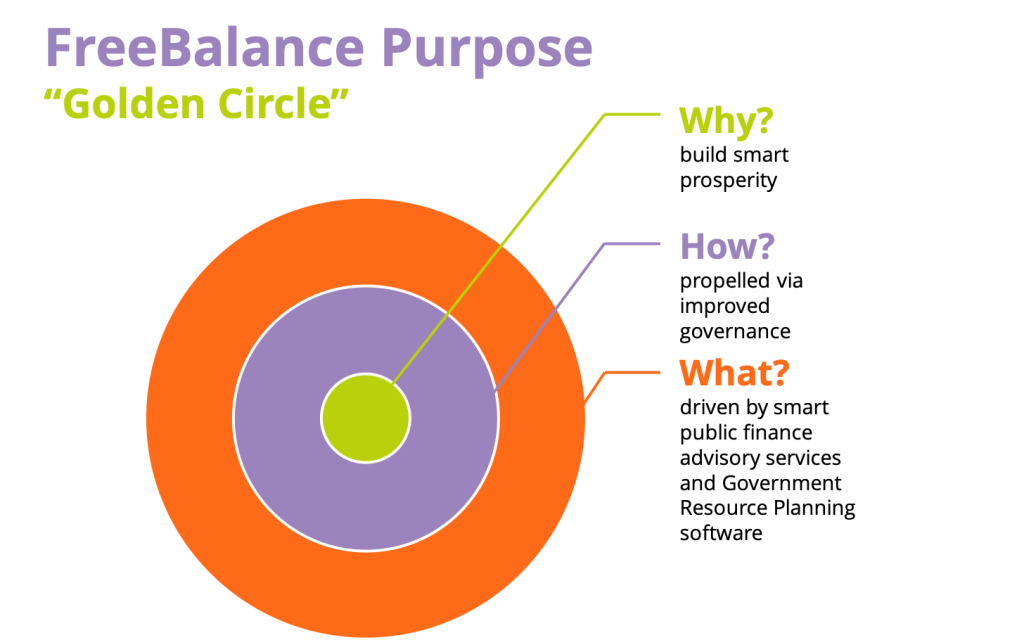 https://twitter.com/dalytics/status/1301499936563847169
Context: the pandemic puts significant pressure on public finances
Yet, public finances are part of the solution

https://twitter.com/dalytics/status/1301549451274866689

At a time when government fiscal space is still constrained by the 2008 financial crisis
.@PietraCEO pointed out at our internal @freebalance webinar that many governments are in react mode, produce PDF reports with no analytics, unable to track donor funds to spending reality> this is how our #PFM services can help any government #publicfinances

— Doug Hadden (@dalytics) September 3, 2020
Meanwhile, many governments are unable to report spending interactively

And, fiscal credibility is important for country recoveries
https://twitter.com/dalytics/status/1301500439800684556
How can we enable public finance improvements during the pandemic? How could we help governments become more fiscally resilient to future economic shocks?
That was the challenge from our President and CEO Manuel Pietra in late March

We formed an innovation team with senior staff from Asia, Europe, Latin America, and North America to develop a solutions portfolio

We learned from advice from the ADB, IMF, PEFA Secretariat, the World Bank and numerous think tanks

We worked with our government customers
What were our challenges to develop this portfolio? Rationalizing all these good practices into practical solutions.
 This required categorization
https://twitter.com/dalytics/status/1301504969774960642
https://twitter.com/dalytics/status/1301502705194721285
The result was a set of 4 advisory services and 2 product enhancements now available to any government:
Products
Emergency Tracking Portal:

customized health information and expenditure portal for governments seeking to automate transparency and improve citizen communications effectiveness

Government Supplier E-Services:

online and mobile alert facility for governments seeking to reduce the burden on suppliers and government staff to track invoices, statements, and payments
Services
Emergency Fiscal Advice Engineering

: as-needed access to the FreeBalance PFM virtual "war room" for governments needing quick access to expert resources during the pandemic response

Emergency Sustainability Enablement

: emergency PFM advisory engagement for governments seeking to adjust controls, enable reallocations, and improve tracking during the pandemic

Public Financial Management Resilience Empowerment

: comprehensive phased PFM advisory engagement for governments seeking to mitigate fiscal shocks from the pandemic through and become resilient to future shocks

Finance Ministry Continuity Engineering

: analysis of critical task regulations, business processes, and information systems to ensure continuity of critical Finance Ministry functions
Context: this portfolio supports governments across different time frames
Horizon 1

: PFM in the pandemic

Horizon 2

: PFM in pandemic recovery

Horizon 3

: Resilient PFM for future economic shocks
How is this the actions of a social enterprise? Isn't this an attempt to generate more revenue?
We commit to leveraging what governments have implemented – no replacement of non-FreeBalance software for advisory services & integrate portals with existing infrastructure

We deliver remote services adjusted for local rates for affordability

We leverage our diverse global workforce to find the most optimal cost/benefit solutions

We identify PFM reform and resilience opportunities not specifically tied to FreeBalance software
https://twitter.com/dalytics/status/1301542699082842114
Our global staff shared experiences helping countries deal with pandemic public finances:
https://twitter.com/dalytics/status/1301503963179573249
https://twitter.com/dalytics/status/1301511308878241792
https://twitter.com/dalytics/status/1301511943912648710
Budget classification additions for spending reallocations based on pandemic priorities across Ministries that enable audit and tracking

Controls changes and leverage of supplemental budgets for special healthcare worker payroll and expenditures

Separation of pandemic spending from other health spending with special tracking and reporting

Adjustments in sub-allocation controls for pandemic spending reallocation from other sources
https://twitter.com/dalytics/status/1301505725038985217
The bottom line: it's our global social responsibility, as a social enterprise, to motivate governments to reform to achieve sustainable growth and citizen wellbeing
Deeper drive
Topics