That's why we call our FreeBalance Accountability Suite product pillar "Civil Service Management" rather than Human Resources Information Systems (HRIS) or Human Capital Management (HCM).
The big picture: commercially-available HCM and HRIS software rarely provide full capabilities for governments
Why it matters: wage bills are often the largest expenditure in government organizations. Developed country public services expenditures range from 15% to 20% of GDP representing 10% to 35% of all employment according to the OECD. In the OECD-countries, the average public sector employment rate was 21.3% in 2013. ILO data in Wikipedia shows that the share of employment by the public sector is higher in developing countries.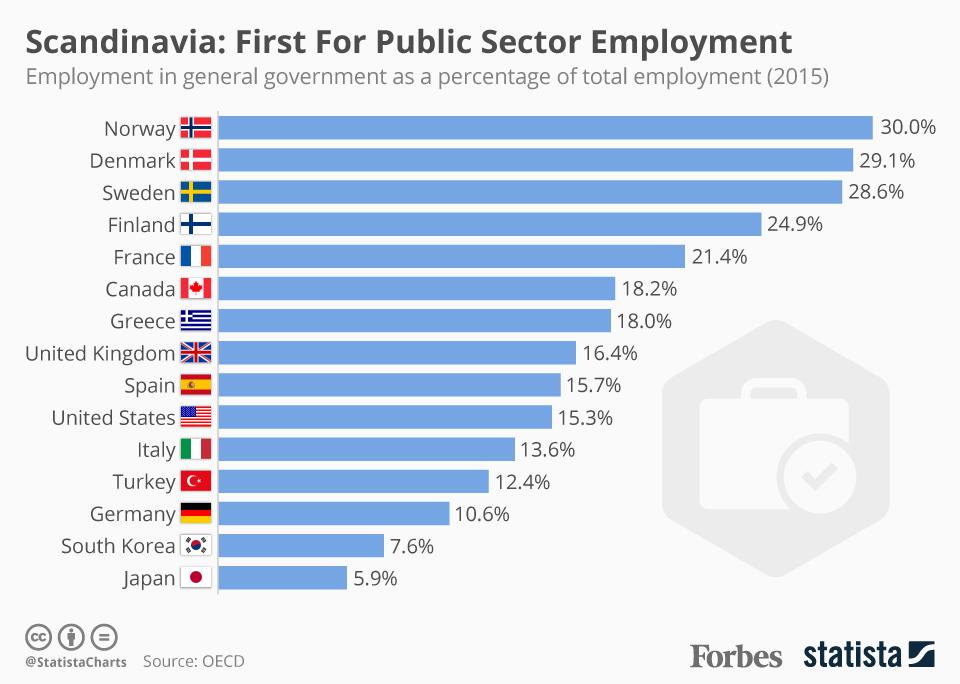 At around 20% of total country employment, and 15% of annual GDP in wage bills, salary budget scrutiny, risk management, and spending predictability is critical in government. This is particularly true when newly elected governments revisit civil service salary scales. Not to mention adapting pension mechanisms, adding to long-term entitlement contingent liabilities. For example, the South Africa public sector wage bill now swallows nearly 35% of the budget and 14% of GDP, representing the largest expenditure category, according to an analysis by Moneyweb:



The bottom line is that civil service management differs from private sector human resources with:
Budget management makes government payroll and civil services differ from the private sector

Payroll rules are more complex in government than the private sector

Salary budget planning is far more important in government than the private sector

Payment management is more complex in government, particularly in emerging economies, than the private sector

Workforce management is more complex in government than the private sector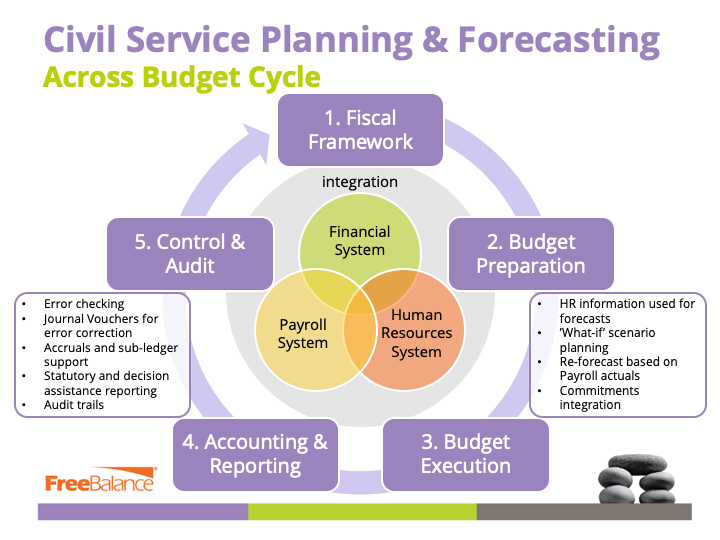 Government budget management and commitment controls make civil service management more complex than HCM in the private sector
1. How does "budget management" make government payroll and civil service expenses different from the private sector?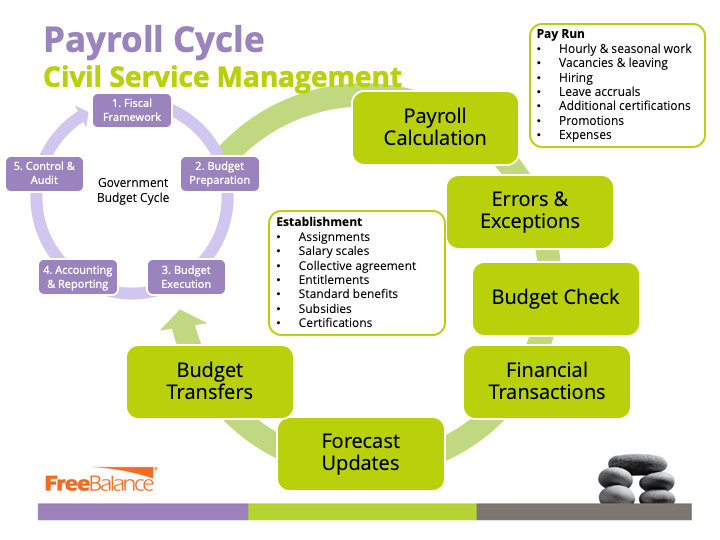 Each government pay run requires comparing payroll expenses versus budgets, often requiring budget adjustments
Budgets are the law

: governments cannot exceed salary budgets, so payroll needs to be tracked and potential deficits forecast every pay period to identify spending adjustments and potential budget transfers

Budgets include all public servant expenses

: payroll, benefits, travel, training courses, subsidies –

not just salaries

Budgets relate to service delivery:

saving money by reducing hours worked, training courses, and professional certifications reduces the quality of citizen services 

Budgets are about the future

: covers pension entitlements for retired public servants
2. What is different about payroll rules in government compared with businesses?
Government collective agreements

generate 10s of thousands of salary rules – and, these rules are subject to change every few years! (For example, it is estimated that the Government of Canada has over 80,000 pay rules – one of the reasons why the government-wide Oracle PeopleSoft implementation failed and continues to generate problems).

Salary scale complexity

includes political appointee, civilian, military, public security, education and health worker scales that are often different (this is further complicated by individual contractor payment scales)

Public service subsidies

are more complex with allowances, subsidies, benefits, and per diems (For example, governments running FreeBalance CSM have had ethnic subsidies to support equity, and subsidies to veterans, with subsidies with children and grandchildren of war veterans)

Reform

adds to complexity because Emerging Market and Developing Economy (EMDE) governments often have to reform salary scales and payment algorithms in response to currency fluctuations and economic shocks (that's not to say that there isn't any reform in advanced economies – there is)

Pay periods differ

: EMDE governments often have 13th and 14th month payroll payments or 1-off hardship or cost-of-living payments (In addition, many FreeBalance CSM governments calculate pay based on percent of month worked rather than number of days and holidays in a month)
3. How is "budget planning" different in government than the private sector?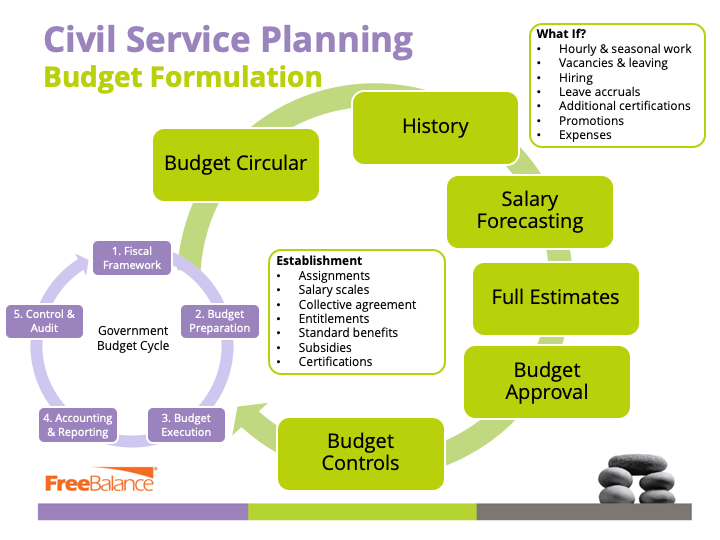 Governments engage in complex civil service "what if "planning consisting of payroll calculations & other public service expenses based on establishment rules 
All public financial functions, including payroll, are about budgets. Budgets have a purpose: to achieve desired outcomes. Salary planning has to take outcome factors into account, according to the IMF:
"Effective management of wage bill spending is needed to ensure that the desired public services are delivered in a cost-effective and fiscally sustainable manner. This requires adequate fiscal planning to ensure appropriate financing of the wage bill, competitive compensation to attract and retain skilled staff and incentivize performance, and the flexibility to adjust the level and composition of employment to respond efficiently to demographic and technological developments. Experience has shown that countries across all income levels have faced challenges in these areas."
Budget scenarios to meet legal requirements and support credible budgeting are complex because scenarios include:
Complex

payroll, benefits, subsidies, and per diem rules

Variable costs like overtime, hourly, and seasonal employment

Potential vacancy rates, employment insurance payments, additional hiring, pay increases because of skills certification, and any annual general increases
Meanwhile: EMDE governments are often unable to pay full salaries because of liquidity constraints putting countries in arrears making budget scenarios that much more important
Example: pay rule complexity in the Government of Canada includes:
Isolated Post Allowance

Environmental Allowance

Fuel and Utilities Differential

Living Cost Differential

Shelter Cost Differential
based on 
Employee Location

Marital Status

Salary Rate (Annual or Hourly)
With distribution rules to set specific Financial Coding Blocks
based on Entitlement Codes (or Type of Expenses), such as for Salary Garnishments, Severance Pay, Payment in lieu of Leave
or based on combinations of Entitlement Codes and/or other criteria, such as paylists
4. Why is payment management more complex in government?
Transparency

: many

governments require reporting on politician and senior public servant salaries and expenses

 (One FreeBalance EMDE CSM customer also required civil service financial disclosure as an anti-corruption mechanism)

Payment methods

: EMDEs, in particular, support payroll through cash, secure cheque printing, bank ""pay agents"", EFT to bank accounts, and EFT to debit cards or mobile phones for public servants who do not have bank accounts (and, these payment methods differ based on regions, reform over time)

Scale

: large numbers of public servants combined with large numbers of payroll rules uses significant computing resources especially with single systems for a national government (For example, FreeBalance CSM generates pay for 420,000 public servants in Uganda)

Exceptions

: secondments, civil servant movement across governments, and data entry errors (when CSM systems not rolled out across all government organizations) can generate large exception reports requiring significant amount of financial adjustments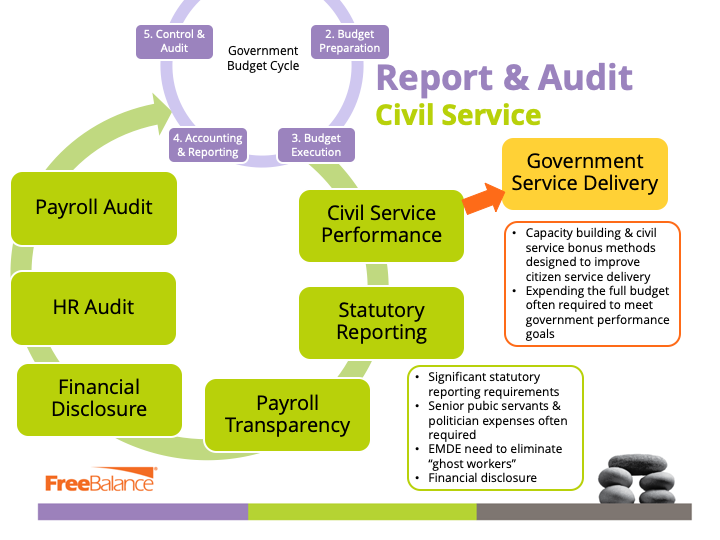 HR & payroll reporting, audit, & performance management is complex in government
5. How is workforce management more complex in government?
Recruitment

: hiring rules, certifications, approval, oversight, and public service exams exceeds private sector complexity (Some FreeBalance CSM government customers require hiring approval at the highest ministerial levels of government)

Civil service data

: material collected about public servants, the so-called "tombstone" data about addresses, qualifications, family, and employment history exceeds that collected in the private sector – and, this information needs to be retained for the life of the public servant for potential rehiring or those who left government, and for public pensions

Movement

: public servants tend to move to other government organizations more rapidly than in business adding to data complexity

Talent management

: governments engage in training, secondment, certification, and capacity building in more ways than businesses (Many FreeBalance CSM government customers support special public service capacity building organizations)
A deeper drive…
An alternative view is that software designed for businesses can support governments:
Make public servants "vendors" in purchasing software to track travel, per diem, and training costs.

But, how can governments build and control civil service budgets when using multiple systems? And, how can these costs connect to public service certifications automatically?

Use multidimensional database modelers, like OLAP tools, for salary planning.

How can these identify errors during pay periods, integrate with payroll software for re-forecasting, support accrual concepts like leave?

Integrate a third-party salary management system.

That's a realistic option – for example the FreeBalance Civil Service Planning module has been used for more than 30 years in the Government of Canada to overcome the limitations of private sector payroll applications.
The bad news: bolting on government-specific applications, like FreeBalance Civil Service Planning, or code customization is not sustainable
Consider the burden to adapt multiple pieces of custom software to reflect public service reform or budget classification changes

Consider whether these applications share common metadata to communicate the real budget implication of new collective agreements, and new pension schemes
Background: FreeBalance focused on financial and payroll budget management for the Government of Canada in the 1980s.
More than 40 Canadian government departments, agencies, and commissions have used FreeBalance Civil Service Planning integrated with PeopleSoft for salary rules, and FreeBalance, Oracle Financials, and SAP for adjusting entries, accrual entries, financial transactions, and transparency reporting –

and

, helped trap errors estimated at about

3.5%

when using the Regional Pay System

The FreeBalance Accountability Suite, using a unified design, has a more elegant budget planning, human resources, payroll, financial management, and transparency design than bolting on Civil Service Planning to software originally designed for the private sector – common definitions, single version of the truth, make changes in one place to cascade across all dependent applications
When Government Payroll Implementations have Significant Problems
What can we learn from the "Phoenix Pay System" PeopleSoft implementation fiasco in the Government of Canada expected to cost up to C$2.2B in total in unplanned cost? A tender awarded on June 29, 2011 and not yet meeting government requirements?
80,000 payroll rules and 80 collective agreements are difficult to implement in software written for the private sector – meaning  that upwards of 3/4 of all public servants had pay errors. Some were not paid at all:
Summer student workers, some civil servants on maternity leave, and some civil servants who retired did not receive pensions

Some public servants were overpaid. Many had benefits missing. Pay calculations for taxation were often incorrect

Some public servants went into financial and mental distress & public sector unions protested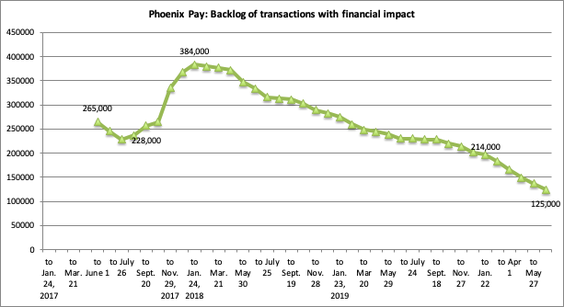 from the Ottawa Citizen
July 28, 2020 Update: "Since January 2018, the peak of the madness, the backlog of all pay transactions requiring action has dropped by about half to 230,000 as of late June.  Many of these involve basic queries for information about promotions, overtime and rules. The part of the backlog involving money — too little or too much pay, incorrect deductions, pay not received — has shrunk by two-thirds to 125,000."
Meanwhile, Government departments not using FreeBalance Civil Service Planning were far less able to trap errors because the idea was that a customized version of PeopleSoft could do everything
Customization

added to the problem – code customization is always part of the problem in failed government implementation from large public sector ERP disasters to fiascos like healthcare.gov in the United States, especially when this customization is required because of complex pay rules
That's not to say that the entire cause of PeopleSoft problems was PeopleSoft and customization: serious project management deficiencies were compounded by the use of Enterprise Resource Planning software. 
Another example of an ERP fail for government payroll is the City of Anchorage Alaska with an original budget of US$10.6M that has resulted in costs of about $US81M including "payroll error settlements cost the city an estimated $16 million". 
Success Patterns include:
Design requirements that includes budget planning and budget execution

Integrate human resources with payroll functionality

Leverage software designed for government to reduce code customization

Expect future public service reform by acquiring software that progressively activates to support more advanced processes

Ensure that the manufacturer of the software is also part of the project governance structure and committed to success
Takeaway: HRIS & HCM are very different in government from the private sector. Government organizations looking to acquire modern systems for Civil Service Management can ask questions and write tender requirements about
Budget management

Payroll rule complexity

Salary budget planning

Payment management

Workforce management
Topics