Assess Your Government FMIS Implementation and Identify Valuable Improvements!
Background: Earlier today, a speaker at the World Bank FMIS Community of Practice webinar suggested that there is no established benchmark for government FMIS systems.
We like the checklist but thought that a benchmark needs more granularity. Our innovation and PFM teams worked together to update the checklist, and leverage as part of our A-i3+qM methodology1 that is designed exclusively for government and public finance advisory, implementation, and sustainability services.
We extended the checklist with content from the Commonwealth Secretariat Self-Assessment Tool that has some FMIS elements. And, we developed more granular elements with a more specificity, particularly in information technology and public accounting.
The bottom line is an IFMIS benchmark consisting of:
20 TSA elements
73 Core Functionality elements
62 Ancillary Feature elements
15 Coverage & Utilization elements
145 Technical Aspect elements
The benchmark follows the World Bank structure with colour coding:
Black for original World Bank content
Red for Commonwealth Secretariat content
Green for FreeBalance content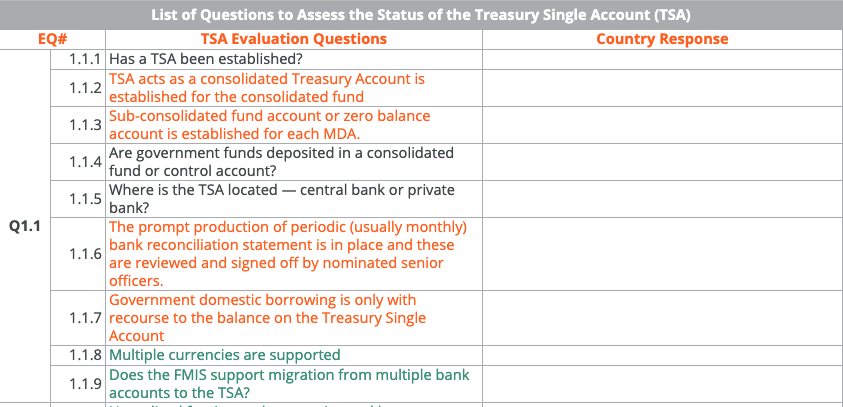 How does FreeBalance leverage the template available in Google Sheets and Microsoft Excel?
Communicates the current state of any government FMIS system
Adapts to evaluation weighting based on the country capacity context
Integrates with other PFM reform tools that we've developed
How do you get a copy of the benchmark and a short briefing?
There is no charge for the benchmark and briefing
1 About the FreeBalance A-i3+qM methodology
FreeBalance uses an ISO-9001:2015 certified service methodology called A-i3+qM – accelerated, integrated, iterative, implementation-focused and quality management system that has the following characteristics:
Government-Specific

developed over 35 years of government-only projects, with emphasis on experienced teams, change management and capacity building

Government Good Practices

using problem diagnostics, and advocating legal and appropriate practices for the context

Integrated Product & Project Methodology

that accelerates delivery, enables adapting software to meet needs, and eliminates the problem of orphan code through fully commercially-supported customization

Modern Effective Agile

through staging proven scientific commercial practices that increase implementation success rates, overcome uncertainty, and improve communications
Services Portfolio
The FreeBalance professional services portfolio includes:
(ADV) Advisory Services: Set of governance, public finance, change management, program management, and IT advisory services
(IMP) Implementation Services: Comprehensive enterprise software and FMIS implementation service
(SUS) Sustainability Services: Capacity building, training, change management, support & maintenance services
These services leverage over 250 tools. Some are commercial well-known tools. Some are tools developed by governments, or for governments. Most have been developed by FreeBalance over the past 3 decades of experience.
Topics